HEMP IN THE BEGINNING…
Hemp is among the oldest industries on the planet, going back more than 10,000 years to the beginnings of pottery. The Columbia History of the World states that the oldest relic of human industry is a bit of hemp fabric dating back to approximately 8,000 BC.
Presidents Washington and Jefferson both grew hemp. Americans were legally bound to grow hemp during the Colonial Era and Early Republic.
In 1937, Congress passed the Marijuana Tax Act which effectively began the era of hemp prohibition. The tax and licensing regulations of the act made hemp cultivation difficult for American farmers. The chief promoter of the Tax Act, Harry Anslinger, began promoting anti-marijuana legislation around the world.
Then came World War II. The Japanese attack on Pearl Harbor shut off foreign supplies of "manila hemp" fiber from the Philippines. The USDA produced a film called "Hemp For Victory" to encourage U.S. farmers to grow hemp for the war effort. The U.S. government formed the War Hemp Industries Department and subsidized hemp cultivation. During the war, U.S. farmers grew about a million acres of hemp across the Midwest as part of that program.
After the war ended, the government quietly shut down all the hemp processing plants and the industry faded away again.
During the period from 1937 to the late 60s, the U.S. government understood and acknowledged that industrial hemp and marijuana were distinct varieties of the Cannabis plant. Hemp was no longer officially recognized as distinct from marijuana after the passage of the Controlled Substances Act (CSA) of 1970. This is despite the fact that a specific exemption for hemp was included in the CSA under the definition of marijuana. The recent federal court case HIA vs DEA has re-established acknowledgement of distinct varieties of Cannabis, and supports the exemption for non-viable seed and fiber and any products made from them.
The U.S. government has published numerous reports and other documents on hemp dating back to the beginnings of our country. Below is a list of some of the documents that have been discovered:
1797: SECRETARY OF WAR (U.S.S. CONSTITUTION'S HEMP)
1810: JOHN QUINCY ADAMS (RUSSIAN HEMP CULTIVATION)
1827: U.S. NAVY COMMISSIONER (WATER-ROTTED HEMP)
1873: HEMP CULTURE IN JAPAN
1895: USDA (HEMP SEED)
1899: USDA SECRETARY (HEMP)
1901: USDA LYSTER DEWEY (HEMP & FLAX SEED)
1901: USDA LYSTER DEWEY (13 PAGE ARTICLE ON HEMP)
1903: USDA LYSTER DEWEY (PRINCIPAL COMMERCIAL PLANT FIBERS)
1909: USDA SECRETARY (FIBER INVESTIGATIONS: HEMP/FLAX)
1913: USDA LYSTER DEWEY (HEMP SOILS, YIELD & ECONOMICS)
1913: USDA LYSTER DEWEY (TESTS FOR HEMP, LIST OF PRODUCTS)
1916: USDA BULLETIN 404 (HEMP HURDS AS A PAPER-MAKING MATERIAL)
1917: USDA (HEMP SEED SUPPLY OF THE NATION)
1917: USDA (CANNABIS)
1927: USDA LYSTER DEWEY (HEMP VARIETIES)
1931: USDA LYSTER DEWEY (HEMP FIBER LOSING GROUND)
1943: USDA ("HEMP FOR VICTORY" DOCUMENTARY FILM)
1947: USDA (HEMP DAY LENGTH & FLOWERING)
1956: USDA (MONOECIOUS HEMP BREEDING IN THE U.S.)
*These documents and many more are published online by U.S. hemp historian extraordinaire, John E. Dvorak. His "Digital Hemp History Library" is the most complete source for historical hemp documents and data anywhere.
You can also check out literary references to industrial hemp from Aesop's Fables to the present by clicking here.
HOW HEMP BECAME ILLEGAL
In the early 1900's, two industries became rivals in growing multi-billion markets.  An amazing fact:  inventor Rudolph Diesel created the diesel engine and expected that it would run by vegetable and seed oils.  He thought that Hemp oil would be the ideal fuel for his engine because it is much more superior than petroleum.  An amazing concept. 
The Du Pont petrochemical was a leading chemical manufacturer with a major ally invTreasury Secretary Andrew Mellon. Mellon was a banker who took over Gulf Oil Corporation.    At the same, in 1913, Henry Ford was opening his auto assembly line.  And Gulf Oil was opening its drive in gas station.  With ethanol fuel as possible competition to gasoline, Prohibition (of alcohol) descended across America.  Mellon was well-positioned and positioned his friends at Du Pon to take over General Motors.  The DuPont chemical process for gasoline and making trees into paper.  
Ford Motor Company had at one point operated a successful biomass fuel conversion plant using cellulose at Iron Mountain, Michigan.    Ford engineers extracted methanol, charcoal fuel, tar, pitch ethyl-acetate and creosote from hemp.   At the same time, Du Pont was developing many materials from fossil fuels which are common today – cellophane, nylon and dacron – as well as numerous synthetics, paint, rayon, plastics and more agricultural chemicals.  
The next major player entered the scene William Randolph Hearst.  His company was a massive consumer of the cheap tree-based paper – which replaced hemp paper in the late 19th century.  Hearst had a logging company and worked with Du Pont's tree based paper which 'yellowed' shortly after production.   And Hearst had a major issue with Mexico because Pancho Villa, a revolutionary gunman during the Mexican Revolution, had appropriated some 800,000 acres of prime timberland from Hearst in the name of the mexican peasants.   So Hearst's low quality paper was at risk of being replaced by a low cost alternative.
Hemp.  Easily cultivated, quick growing and durable hemp.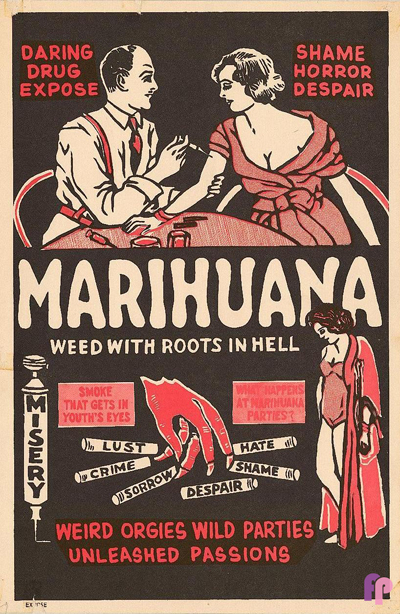 Hearst supported  legislation to prohibit hemp.  Making hemp as an illegal narcotic would rule out its use in any industry.  Hearst would exact his revenge on Pancho Villa.   Now cannabis is not a narcotic but media does not have to get its facts right.  It merely has to say that "these are the facts" you should believe.  So Hemp was completely removed from society, doctors, and industry.
Around 1920 or so,  "Marihuana" was first used with numerous references as a drug causing murderous rampages by blacks and Mexicans.  Newspapers used their vast media reach to impress fear on the readers so that they would not ever have the facts – but only know about the 'dangers' presented to them.  
The Federal Bureau of Narcotics was formed in 1932 with Mellon's nephew, Harry Anslinger, given first appointment as its head.  Treasury Agents were now operating with their own mandate – but the deep Depression of 1929 continued with Roosevelt's economic policies.   As Congress was looking for areas to cut the budget, Anslinger feared that his agency might be next on the chopping block.  The Treasury Department drafted The Marihuana Act in 1935.  Disguised as a tax revenue bill, Anslinger gathered stories on the evils of marihuana, relying primarily on the sensationalist news media of the day – Hearst newspapers.   Marihuana was now viewed in Congress too as an essential evil.   
Congress passed the Marihuana Act – without a roll call vote.
Hemp was now relegated to an illegal status due to the collaboration of major chemical company Du Pont – which pushed forward with a little product called "Nylon".  Nylon replaced the textile markets of hemp in a highly lucrative burgeoning industry.  Fuel for vehicles was firmly petroleum and not hemp oil as Mr. Diesel would have wanted.   And Hearst ran a potent media campaign against one of the world's most versatile, fast-growing and readily available crops.  Hemp. 
The outlawing of Hemp changed the fabrice of America on so many levels.  Where Industry goes with innovation and discovery, then the general public will follow.   For decades, Cannabis-based tinctures were a given in the panoply of frontier medicinal options.  Tinctures were widely used.   Just check out the bottles below or click on the link here.  
The passage of the Marijuana Act of 1935 prohibited Hemp from cultivation and made it an illegal drug.   We have to harken back to the ancient Romans and the statesman Cicero.   When an incident or situation occurred which was not transparent and reeked of political or financial manipulation, he would simply ask "Cui bono?"  which translates to "For whose good?"  or better yet, "Who profits?"   In essence, when a political maneuver occurs in the Halls of Power, then who benefits from such manipulation?
In the case of Hemp, we have the passage of the Marihuana Act which now outlawed a valuable commodity – to favor the heavy industry of oil, petrochemicals, media and motor cars.  In addition, this miscategorization of Hemp as a narcotic also pushed police, bureaucrats and the courts toward a vast enforcement mechanism – for a threat that hardly existed.  
And who did profit?  In 1937 Du Pont filed a patent on Nylon which became so widely used as to virtually take over the textile industry for decades to come.   General Motors built more than half of America's vehicles as the country shifted from a rural to suburban population with freeways and a huge interstate network post World War II.  Du Pont created the paints, plastics, rubber and more  – which could have been created by Hemp.  
But now Hemp is back.
…and will become better than ever with new research, advocacy and interest for the public.